Ad blocker interference detected!
Wikia is a free-to-use site that makes money from advertising. We have a modified experience for viewers using ad blockers

Wikia is not accessible if you've made further modifications. Remove the custom ad blocker rule(s) and the page will load as expected.
This is a list of Television programs formerly and currently broadcast by the children's cable television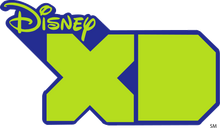 channel Disney XD in the United States.
Current programming
Edit
Disney took episodes way
Repeats of former Disney XD original series
Edit
Co-productions
Edit
Repeats of ended co-productions
Edit
Kid vs. Kat (February 13, 2009 – June 4, 2011, first run; June 5, 2011 – present, reruns)
The Avengers: Earth's Mightiest Heroes (October 20, 2010 – November 11, 2012, first-run; November 12, 2012 – present, reruns)
Rated A for Awesome (June 20, 2011 – February 25, 2012, first-run; February 26, 2012 – present, reruns)
Current acquired animated series
Edit
Original films
Edit
Programming blocks
Edit
Marvel Universe (April 1, 2012 – present)
Disney XD's Saturday Morning (February 21, 2009 – June 19, 2010; September 18, 2010 – present)
Short series
Edit
SportsCenter High-5
Next X
Team Smithereen[3]
The Secret Life of Suckers[7]
Wipeout Moments
Winter Wipeout Moments
Run, Alien, Run!
Upcoming series
Edit
Upcoming original live-action programming
Edit
Upcoming co-productions
Edit
Former programming
Edit
Acquired programming
Edit
Original live-action programs
Edit
Aaron Stone (February 13, 2009 – July 30, 2010)
I'm in the Band (November 27, 2009 - December 9, 2011, first run; December 10, 2011 - October 18, 2012, reruns)
Original animated programs
Edit
Motorcity (April 30, 2012 – January 7, 2013, first run)
Tron: Uprising (June 7, 2012 - January 28, 2013, first run)
Repeats of Disney Channel series
Edit
Programming blocks
Edit
Saturday Mornings Disney XD Style (June 26 - September 11, 2010)
References
Edit