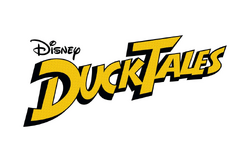 This article is about the reboot. For the original series, see DuckTales.
On February 25, 2015, Disney XD announced that a reboot of DuckTales went into production and is scheduled to premiere in September 23, 2017 At 8PM. [1] All characters from the original series are expected to return. Later, it was revealed by Terry McGovern, the voice of Lanchpad McQuack, that the original voice cast will be replaced by new actors.[2]
The main cast [3]
Scrooge McDuck
Huey
Dewey
Louie
Donald Duck
Launchpad McQuack
Mrs. Beakley
Webby Vanderquack
2 Episodes
Day Trip Of Doom!/The Great Dime Chase!
References
Edit
https://www.youtube.com/watch?v=3NPoyDlit1g