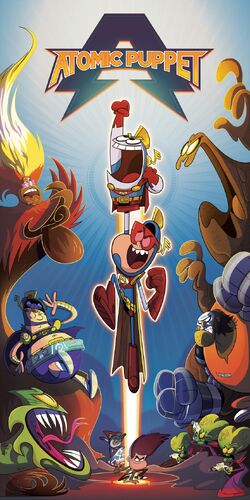 Atomic Puppet is an animated series co-created by Mark Drop (The 7D, Recess, Jake and the Neverland Pirates) and Jerry Leibowitz. Rather not being a Disney series, it is an international co-production by Technicolor, Canada's Mercury Filmworks (the studio that currently provide services to Disney Television Animation), and the French company Gaumont Animation.[1] The series is about a teenaged boy named Joey Felt who one day found a puppet (who was once human) with superhero powers. When trouble arises in their city, Joey slips on the puppet on his right hand and together they save the day.
Atomic Puppet is licensed to Disney XD networks in the United States, the United Kingdom, France and Spain. The series debuted in the U.S. and U.K. on July 18, 2016.[1] As of July 30, 2016, the series was removed from the schedule in the U.S.; since then two holiday episodes had premiered -- a Halloween episode on October 31, 2016,[2] and a Christmas episode on December 3, 2016.[3] In Canada, it will make its debut on Teletoon later this year.
References
Edit
Ad blocker interference detected!
Wikia is a free-to-use site that makes money from advertising. We have a modified experience for viewers using ad blockers

Wikia is not accessible if you've made further modifications. Remove the custom ad blocker rule(s) and the page will load as expected.